Caladium White Christmas, also known as Caladium bicolor 'White Christmas,' is an exquisite indoor plant prized for its striking, heart-shaped white and green leaves. It has become an increasingly popular as a house plant with it's uncommon coloring and ease of care.
In this guide, we will discuss various aspects of caring for this beautiful plant, including identification, size, light, temperature, humidity, watering, fertilization, soil, diseases and pests, toxicity, and common problems.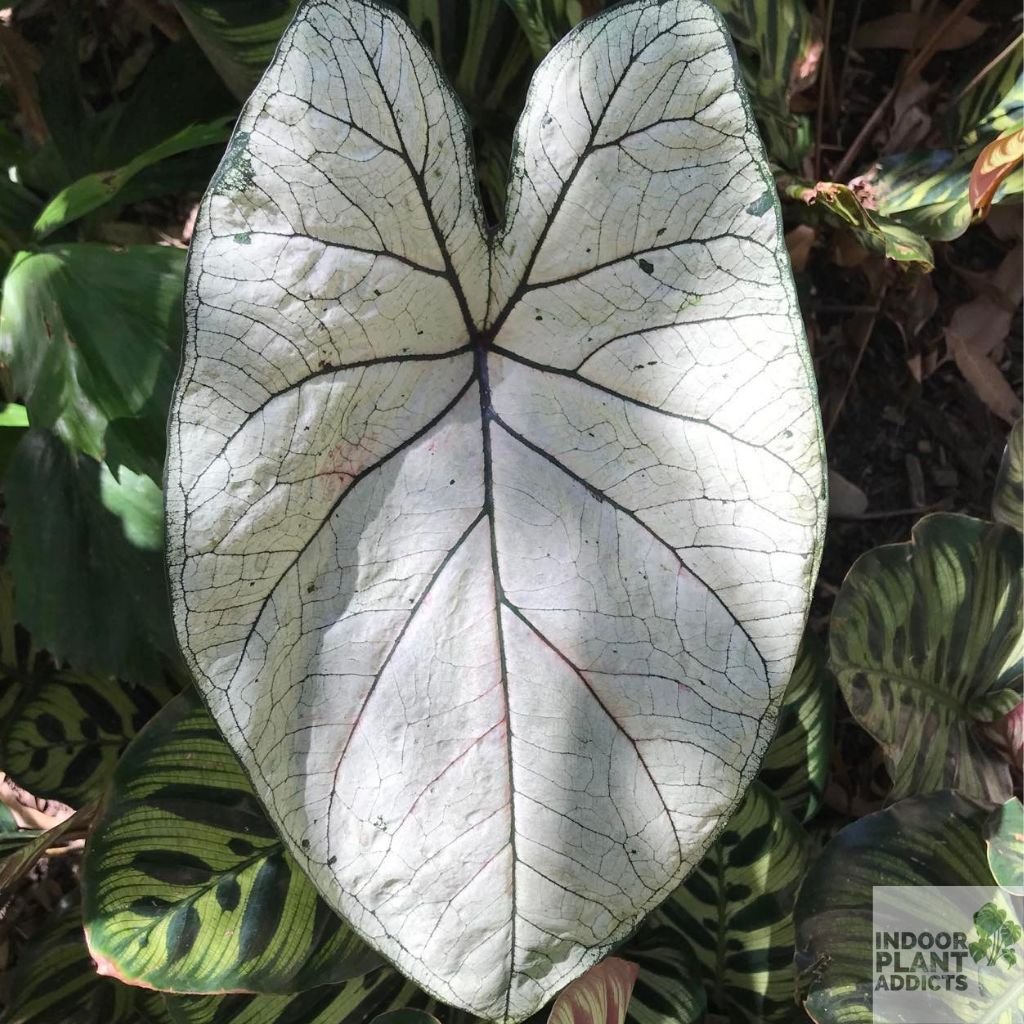 Caladium White Christmas Quick Overview
| | |
| --- | --- |
| Care Aspect | Requirements |
| Scientific Name | Caladium x hortulanum 'White Christmas' |
| Light | Bright, indirect sunlight |
| Temperature | 65-75°F (18-24°C) |
| Humidity | High, ideally above 50% |
| Watering | Every 7-10 days, when top inch of soil is dry |
| Fertilizing | Every 4-6 weeks during growing season |
| Soil | Well-draining, rich, slightly acidic |
| Soil pH | 5.5-6.5 |
| Repotting Frequency | Every 2-3 years |
| Propagation Method | Tuber division |
| Common Pests & Diseases | Root rot, fungal leaf spots, aphids, spider mites, mealybugs |
| Toxicity | Toxic to pets and humans |
Identification
Caladium White Christmas is known for its stunning, large, heart-shaped leaves featuring white centers and green margins. The delicate veining on the leaves further enhances their beauty.
This variety is often compared to other caladium cultivars, such as 'Candidum' and 'Moonlight,' but the unique coloration of the White Christmas sets it apart from its relatives.
Size
Caladium White Christmas is a compact plant, typically reaching 12-18 inches in height and 12-14 inches in width. The leaves can grow up to 6-12 inches long and 4-6 inches wide, creating an attractive display.
This plant exhibits a clumping growth habit, with leaves emerging directly from the tuberous roots below the soil surface.
Light Requirements
Caladium White Christmas thrives in medium to bright, indirect light. A north- or east-facing window with filtered sunlight is an ideal location or shade house to reduce the impact of direct light.
Although it can tolerate lower light levels, the plant's growth and coloration may be less vibrant. Avoid exposing the delicate leaves to direct sunlight, as this can cause scorching and discoloration.
Temperature Requirements
The ideal temperature range for Caladium White Christmas is between 65-85°F (18-29°C). This tropical plant is sensitive to cold temperatures and drafts, so keep it away from drafty windows, doors, or air conditioning vents.
During winter, maintain indoor temperatures above 60°F (15°C) to prevent damage to the plant. Using a grow light can assist in maintaining warmth and encouraging year round growth.
Humidity Requirements
Caladium White Christmas requires med-high humidity levels (60% or above) to thrive. If the air in your home is too dry, you may notice the leaf edges turning brown or curling.
To increase humidity around the plant, you can place it on a tray filled with pebbles and water, group it with other humidity-loving plants, or use a humidifier. Misting the leaves is another option, but make sure the foliage dries quickly to prevent fungal diseases.
Watering Requirements
Keep the soil of your Caladium White Christmas evenly moist but not waterlogged. Water the plant when the top inch of the soil feels dry to the touch, which usually translates to watering every 7-10 days.
Adjust your watering schedule during the winter months, as the plant's water needs may decrease as it uses less water in the period of reduced growth. Overwatering can lead to root rot, while underwatering may cause leaf drooping and browning.
Fertilizing Requirements
Fertilize your Caladium White Christmas every 4-6 weeks during the growing season (spring and summer) using a balanced, water-soluble houseplant fertilizer diluted to half strength.
Signs of under-fertilizing include slow growth and pale leaves, while over-fertilizing may cause leaf burn or root damage. Reduce fertilization frequency during the fall and winter months as the plant's growth slows.
Diseases & Pests
Caladium White Christmas can be susceptible to the following diseases and pests:
Root rot: Caused by overwatering or poor drainage.
Fungal leaf spots: Result from high humidity and poor air circulation.
Aphids: Small, soft-bodied insects that feed on plant sap.
Spider mites: Tiny, spider-like pests that cause stippling on leaves.
Mealybugs: Small, cotton-like insects that feed on plant sap.
Address these issues promptly by adjusting care practices, pruning affected areas, or treating with insecticidal soap, neem oil, or appropriate fungicides.
Toxicity
Caladium White Christmas is toxic to pets and humans. Ingestion may cause irritation, swelling, and vomiting. Keep the plant out of reach of children and pets, and contact a healthcare professional or veterinarian in case of ingestion.
Soil Requirements
Caladium White Christmas thrives in a well-draining, rich, and slightly acidic potting mix. A mixture of peat moss, perlite, and potting soil in a 2:1:1 ratio works well.
The peat moss helps retain moisture while providing a slightly acidic environment, and the perlite ensures proper aeration and drainage, preventing root rot and other issues.
You can also add a small amount of compost or aged bark to the mix for added nutrients and improved soil structure. Make sure to avoid overly compact or water-retentive soil, as this can lead to root rot and other issues.
Regularly check the pH of the soil, aiming for a range of 5.5 to 6.5, and adjust if needed using sulfur or limestone.
Common Problems
Yellowing leaves: Usually a sign of overwatering or poor drainage. Adjust your watering schedule and ensure the pot has drainage holes.
Brown leaf edges: Caused by low humidity or underwatering. Increase humidity levels around the plant and monitor soil moisture to prevent underwatering.
Pale or dull leaf color: Often indicates insufficient light. Move the plant to a brighter location with indirect sunlight.
Drooping leaves: A symptom of both overwatering and underwatering; check the soil moisture to determine the cause.
Leggy growth: Indicates insufficient light or a need for pruning. Move the plant to a location with better light exposure and consider pruning back leggy stems to encourage bushier growth.
Repotting Caladium White Christmas
Caladium White Christmas typically requires repotting every 1-2 years or when you notice the roots becoming pot-bound. The best time to repot is during late winter or early spring before the plant's active growth phase begins.
Choose a pot that is one size larger than the current one, and ensure that it has drainage holes to prevent waterlogging. Gently remove the plant from its old pot and carefully untangle any roots that may be wrapping around it.
Place the plant in the new pot and fill it with fresh, well-draining potting mix. Water thoroughly to settle the soil and place the plant in a location with appropriate light and temperature conditions.
Caladium White Christmas Propagation
Caladium White Christmas can be propagated through tuber division. To do this, follow these steps:
Remove the plant from its pot during its dormancy period in late fall or early winter.
Carefully separate the tubers, making sure that each piece has at least one growing eye or bud.
Allow the divided tubers to dry for a day or two in a cool, dry, and well-ventilated area.
Plant the tubers in individual pots filled with a well-draining potting mix, placing them about 1-2 inches deep with the growing eye facing upwards.
Water the newly potted tubers lightly and maintain a temperature of around 70-75°F (21-24°C) to encourage growth. Once new leaves emerge, gradually increase watering and follow the regular care guidelines mentioned in this guide.
Remember that patience is key, as it may take several weeks for the tubers to sprout and establish new growth.
Conclusion
The Caladium White Christmas is a stunning indoor plant with striking foliage, perfect for adding a touch of elegance and color to your home. By following this comprehensive care guide, you can ensure that your White Christmas thrives and provides a beautiful focal point in your living space.
If you're interested in exploring other indoor plants in the Caladium family, consider varieties such as Caladium 'Candidum,' 'Moonlight,' or 'Red Flash' for a diverse and captivating display of foliage.
Frequently Asked Questions