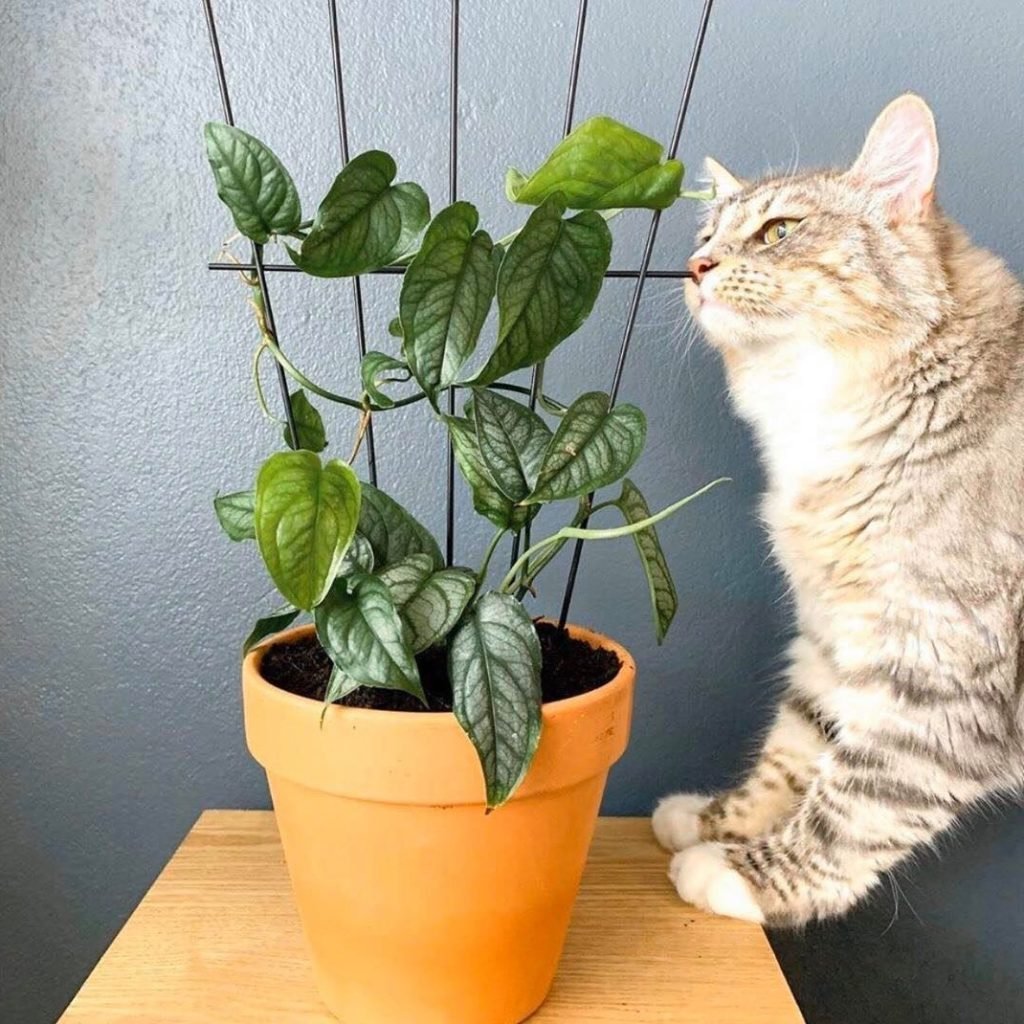 Image thanks to @tsidis
Are you looking to start your indoor plant collection but concerned about which plants best suit you and your fur baby? Worry no longer as we have compiled 5 of our favorite indoor plants that you will love and that are cat friendly. The following indoor plants are non-toxic so there is no need to worry even if you cat can not resist playing with them.
1. Chain of Hearts
These long hanging heart shaped leaves are another great indoor plant that you and your cats will love. The hardest part of keeping your chain of hearts plant will be keeping your cat from playing with these alluring dangling chains. Most importantly Chain of hearts are non-toxic to your feline friends. For more information on how to care for your chain of hearts can be found here. Chain of hearts also offer variegated varieties for those looking for alternative color options.
---
Full Size
3-4 meters long
(9.8-13.1ft)
Light
Bright indirect
Temperature
80-85˚F
(26-29˚C)
Humidity
Average
Cost
$
Care Level
Easy
Toxicity
Non-Toxic
---
2. Maidenhair Fern
Maidenhair ferns are another indoor plant that is safe for keeping with cats. This beautiful small leaved indoor plant loves water and light and most importantly is non-toxic so no need to stress when you catch your cheeky cat playing with or eating the leaves. Below is a quick fact sheet on maidenhair ferns but if you want more details on how to care for them click here.
---
| | |
| --- | --- |
| Full Size | 12 to 20 inches |
| Light | Well lit |
| Temperature | 70˚F (21˚C) |
| Humidity | Medium to high |
| Cost | $ |
| Care Level | High |
| Toxicity | Non toxic |
---
3. Chinese Money Plant
Pilea peperomioides are commonly known as the Chinese money plant however there are a multitude of other nicknames including Pancake and UFO plants . These cost effective, easy to grow plants are another great option for keeping if you have a pet cat. Easy to care for these plants are a perfect choice for those new to the indoor plant keeping hobby. You can learn more about keeping Chinese money plants in your house here.
---
Full Size
8-12 inches
Light
Bright indirect
Temperature
55-86˚F
(13-30˚C)
Humidity
Medium
Cost
$
Care Level
Easy
Toxicity
Non-toxic
---
4. Calathea Orbifolia
Calathea Orbifolia are another great example of cat friendly indoor plants. The beautiful stripe patterned coloration will surely keep both you and your cat mesmerized. These plants are slightly more fussy when it comes to care compared to the Chinese money plants mentioned before but are definitely worth the extra effort, for more information on Calathea Orbifolia check out here.
Full Size
100 centimetres
Light
Medium indirect
Temperature
 65-75˚F
(18-24˚C)
Humidity
High
Cost
$
Care Level
Medium-high
Toxicity
Non toxic
5. Peperomia Emerald Ripple
Last but not least on our list is this little peperomia. It's non-toxic nature makes it another great candidate to keep indoors with cats without having to worry. This wallet friendly, easy to care for Emerald ripple peperomia is another great choice for the indoor plant addict with feline room mates.
Full Size
20cm
Light
Bright indirect
Temperature
60-80˚F
(15-26˚C)
Humidity
High
Cost
$
Care Level
Easy
Toxicity
Non toxic
---