We've got your weekend planned with this south east Queensland Nursery road trip. This road trip will take about 1 hour and 45 min of driving hours to complete, we also recommend including an allocation of 30 min to explore each individual nursery and additional 30 min for a coffee and lunch.
Total trip time = 4 hours 45 minutes
So rearrange your calendar and get ready for a road trip this weekend to visit some of the best nurseries for indoor plants that South East Queensland has to offer. Either strap the kids in or bring along all your other crazy plant friends as this is gonna be a long exciting trip. 
We have added a map with all the stops already included for ease of use. You do not have to visit these places in any particular order, however this is what we have found to be the easiest.
South East Queensland Nursery Road Trip Overview
| | | | | |
| --- | --- | --- | --- | --- |
| Stop | Name | Suburb | Street Address | Open |
| 1 | Rosemount Nursery & Garden Centre | Rosemount | 418 Petrie Creek Rd | 8:30am-5pm 7 Days |
| 2 | Manawee Garden Centre | Buderium | 18 Gloucester Rd | 8am-5pm Mon to Sat  9am-4pm Sun |
| 3 | The Plant Shack | Deception Bay | 2 Krause St | 8.30am-5pm Mon to Fri 8:30am-4pm Sat/ Sun |
| 4 | Eden Gardens | Carseldine | 1657 Gympie Rd | 8:30am-5pm 7 Days |
| 5 | Oxely Nursery | Oxley | 174 Dowding Street | 8am-4pm 7 Days |
Trip Overview
Rosemount Nursery & Garden Centre
The first stop on the trip is at Rosemount which is located centrally between Nambour and Bli-Bli.
The Rosemount Nursery & Garden Centre at Rosemount on the Sunshine Coast is a great medium sized nursery. This nursery and garden centre was established in 1996, and has grown to become one of the leading Sunshine Coast garden centres. They offer a vast range of exotic and native plants, pots, bonsai and garden care.
They have a focus of growing plants onsite which makes their plants already accustomed to the climate and conditions of the Sunshine Coast before you take them home. We couldn't leave without picking up a Mini Monstera (Raphidophora Tetrasperma) to take home for our own collection.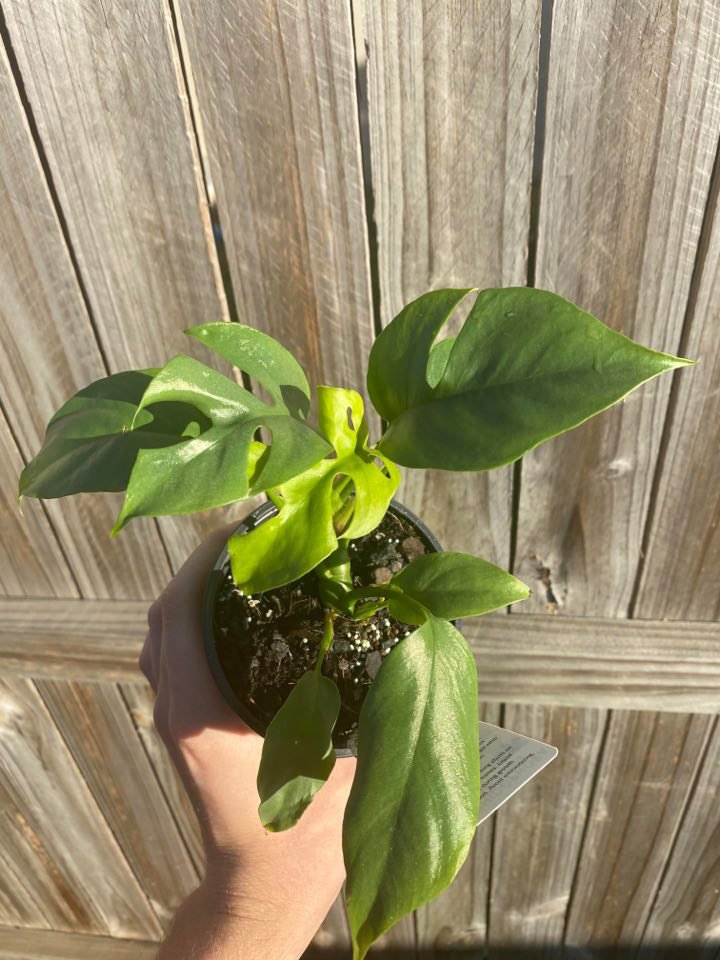 The Rosemount Nursery & Garden Centre had a large range of decorative pots and also boasted a large variety of equipment suitable for bonsai plants. From the moment you enter the car park your eyes will be treated with pots either side for your viewing pleasure.
Parking
There is ample, easy to access parking that will make finding this stop less stressful. The Rosemount Nursery and Garden Centre is also open 7 days a week from 8:30am-5pm.
Additional Information
If you are interested in this stop and want more to learn more about them beforehand you can do so at their website, which we have linked to here. You can also view their Facebook and Instagram pages for up to date pictures and information.
After you have visited the Rosemount Nursery & Garden Centre its time to pack back into the car and make your way to the next stop at Buderim. This leg of the trip is only 10km away and will take about 15 min to complete.
Manawee Garden Centre
The Manawee Garden Centre is a medium to large nursery in Buderim QLD. The family owned nursery has be operating for over 30 years on Queensland's beautiful Sunshine Coast. They stock a wide variety of plants, pots, garden supplies and even a small gift shop.
This beauty of a nursery at Buderium has everything from pothos to string of pearls. With dedicated zones for succulents, pots, indoor and outdoor plants as well as a variety ponds water features, there is something for every plant lover. 
We found three different areas scattered around the nursery that had indoor plant varieties stocked. They had all the favorites like ficus, pothos and monstera while we were there. We also spotted some Homalomena Camouflage in one of the indoor plant sections which was a nice surprise. They also have a dedicated succulent and cactus area which had a little variety. There was some healthy string of pearls and chain of hearts along with popular snake and ZZ plants.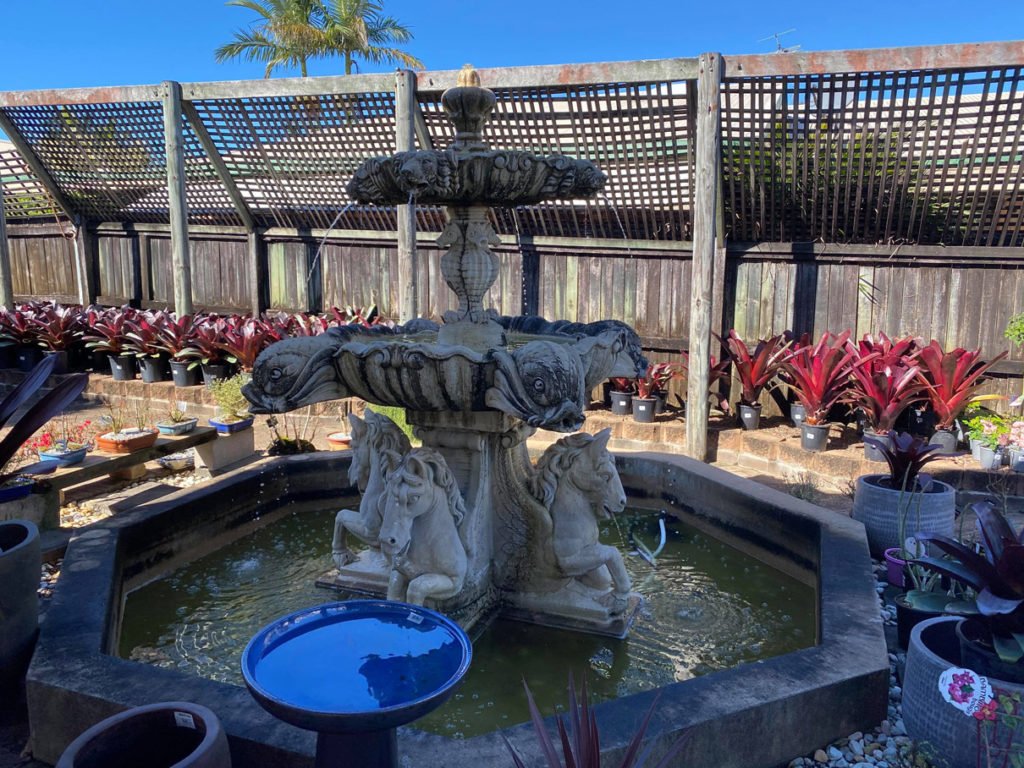 Parking
We noticed finding a car park can be a little difficult with a one way entry and limited spots for this busy nursery. Travelling on a week day (and after missing the turn the first time) we had to wait about 5 minutes for a car park to come available, but in hindsight it was well worth the wait. 
Additional Information
The Manawee Garden Centre is open 7 days a week, typically from 8am-5pm. However, on Sunday operating hours are reduced to 9am – 4pm. So luckily this road trip stop can be accessed any day you have off. 
If you are looking to contact the Manawee Nursery or to call ahead to see if they have a particular plant you can do so via phone or alternatively you can visit their website to see more here. You can also follow them on Facebook and Instagram to stay up to date with their latest deals and plants they have coming in.
After you've checked out everything the Manawee Garden Centre has to offer its time to jump back into the drivers seat for the next leg of the journey. This leg of the trip is the longest at only 60 km away and will take about 40 min to complete.
The Plant Shack
The Plant Shack is an award winning nursery located in Deception Bay. They aim to please customers with their lush healthy plants that they guarantee to grow. They have heaps of helpful, knowledgeable staff that are always happy to help. If you are lucky you might meet 'Sam' the nursery dog which we can certainly say is a good boy.
This tidy retail nursery at deception bay offers a wide range of succulents, indoor and outdoor plant varieties along with a dedicated fruit tree and seedling section. They have great regular in store specials for indoor plants they announce on their social media accounts.
There is also a 'tiny treasures' section which is a personal favourite of mine. This section features smaller sized indoor plants typically under $5. This is a great way to start your houseplant collection on a budget and exciting to watch your tiny plants grow into lush mature plants. 
Most mornings you will be greeted with a small coffee van and food shack offering hot food favourites like bacon and egg rolls. We found it great to relax with a hot coffee during the cold morning sitting in the out front garden sitting area whilst admiring the plants and rustic garden art. 
Parking
The plant shack Is continuously growing in popularity. It's a rare site to see the out front parking not packed on any given day. However there is no reason to worry as there is additional parking along the side and plenty of road parking space on the quiet side street. 
Additional Information
The plant shack is open 7 days a week operating from 8.30am – 5pm Monday to Friday, with slightly reduced hours on a weekend opening 8:30am – 4pm.  They tend to announce sales on their Facebook and Instagram pages at the end of the work week for the weekend. 
After you're done at The Plant Shack (and finished your coffee) its time to get into the car once again and make your way to the next stop in Carseldine. This leg of the trip is only 22 km away and will take about 15 min to complete.
Eden Gardens
Eden Gardens is a 'lush oasis of a plant store' a short drive from Brisbane city. They have a 'knowledge, creativity and passion for all things plants'.  They also offer a diversity of engaging events including regular workshops.
Edens Gardens is located in the busy suburb of Carseldine Queensland on Gympie Rd. As you pull off the busy main street you will find plenty of parking spaces with heaps of shaded options thanks to large trees. 
As you enter the garden centre you are greeted with a large Indoor area with heaps of pots, water features and the occasional indoor plant variety. There's a plant for everyone at this stop with a dedicated area for cactus/ succulents, indoor and outdoor plant varieties along with fruit trees and other vegetable seedlings.
Eden Gardens at Carseldine features a cafe hidden within the centre. 'The Dragonfly Cafe' has plenty of seats enclosed within an array of indoor and outdoor plant displays. This is a good spot during the road trip to sit back and relax to have a drink or even stay for lunch.
Additional Information
Eden Gardens is open seven days a week operating from 8:30am to 5pm every day. They also have social media accounts for both Facebook and Instagram that they use to announce deals and sales.
Its that time again to get back in the car and head to the final stop on the nursery road trip to Oxley. This final portion is 33 km away and will take about 30 min to complete.
Oxley Nursery
The final destination to your plant road trip is Oxley Nursery, this garden centre is one of, if not the largest on the trip.
Oxley Nursery is one of Brisbane's largest garden centres, with knowledge owners and staff that have over 25 years of experience growing plants. The owners are well versed in the growing challenges faced in the South East Queensland climate. They mention that they try their best to only stock plants that will survive in Brisbane's subtropical conditions.
The entrance of the nursery showcases a cactus and succulent area which has some large stand-out cacti. Once you pass the entrance the nursery seems to split in two with the left hand boasting a huge shade cloth lined area housing hundreds of indoor plants. The other side of the nursery houses more indoor plant varieties slightly more exposed to light. 
Parking & Additional Information
Onsite parking is a little limited for this large nursery, however there is plenty of road access parking on the otherwise quiet street. Oxley Nursery is open to the public from 8am-4pm every day. They post regularly on their Facebook page and also have an Instagram account. For more information or to view more of their plant range you can view their website here. 
Now it's time to finally head home, either with your boot full of plants to take care of or mind full of ideas. Also time to give your self a pat on the back. We know how exhausting it can be choosing plants to take home.
---